Register and Book for Mass
In order to comply with attendance tracing for COVID-19, St Martha's Parish is taking bookings for weekend masses via TryBooking.
If you are involved in any ministries in the church over the weekend, you are also required to register.
Once you've registered, your name will placed on the attendee's list at the door of the Church.
Book Now to attend Mass...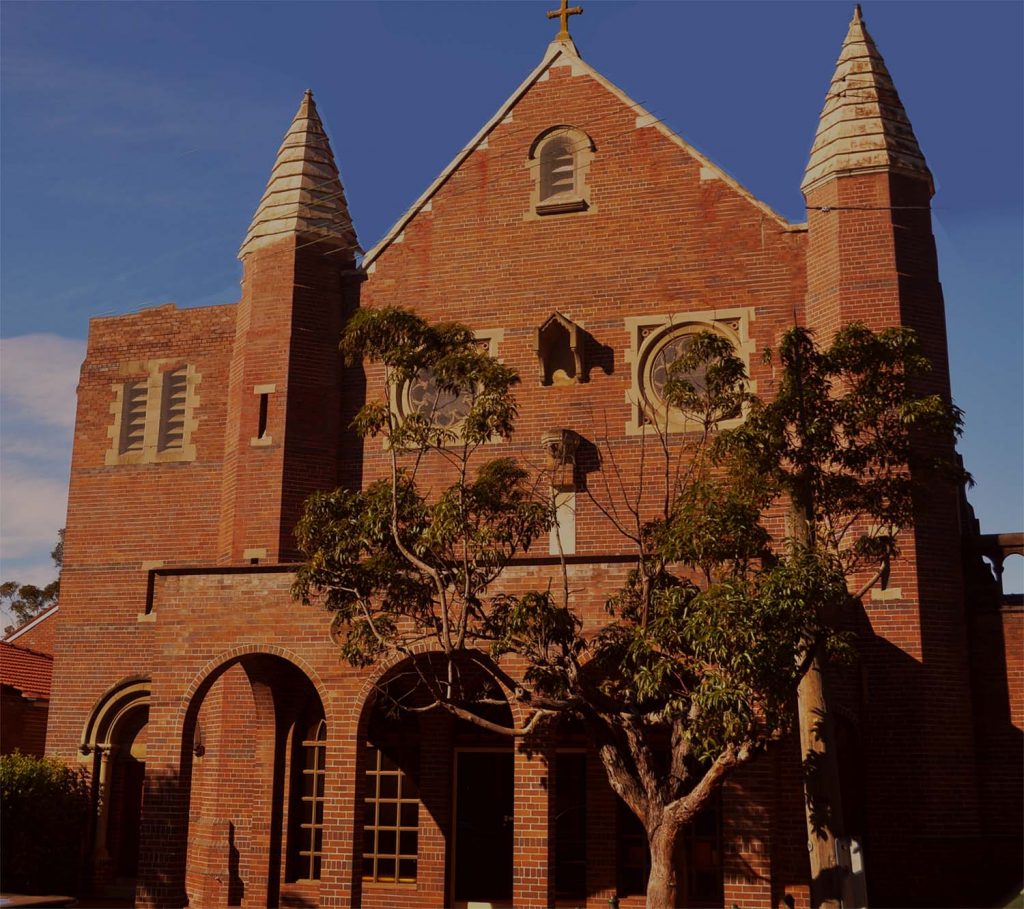 This week we celebrate the Feast of our Patron, Saint Martha, 29th July
St. Martha is said to have had contact with Jesus himself during her lifetime. The exactly quote is "Jesus loved Martha and Mary and Lazarus." Evidence of this relationship is found in the gospel of John, which documents Martha's inviting Jesus into her home. When Jesus was inside Martha's home, she served Him entirely. She's said to have cooked for him, which is one of the reasons that she was is the patron saint of cooks. Her hospitality to Jesus during his visits to her home makes her one of the few saints that had personal contact with Christ Himself.
St. Martha is also the patron saint of innkeepers and maids. She believed in serving the Lord, and did so in person, giving us a reason to call upon her in those moments when our function is to serve. She did so with great joy in her heart. We can follow this example. Her medals frequently show her with her hands joined in prayer.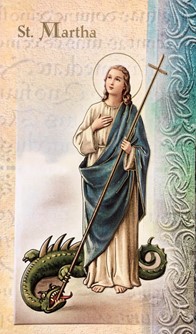 Prayer to St. Martha
St Martha, your faith led Jesus to proclaim,
'I am the resurrection and the life.'
It is faith that let you see beyond His humanity when you call out,
'I believe that you are the Christ.'
Friend and servant of Jesus, pray that I may grow in faith, hope and love and that Jesus who sat at your table, will grant me a place at the banquet of eternal life.
Amen.
(For Novena, also pray Our Father, Hail Mary and Glory Be.)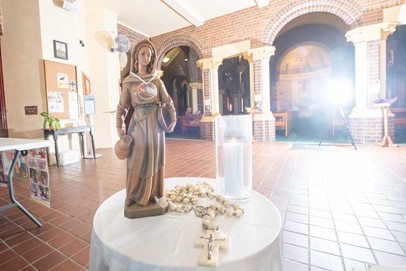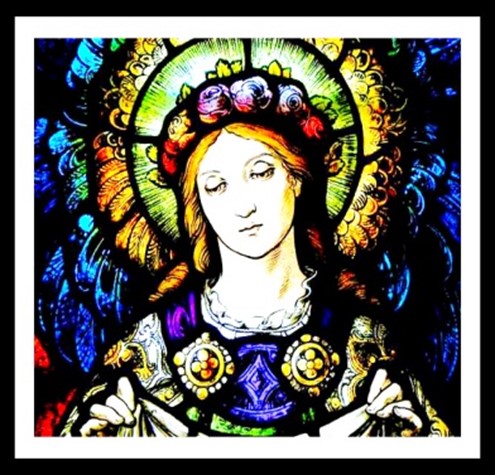 Let us be God's hospitality in the world. Give us eyes to see the deepest needs of people. Give us hearts full of love for our neighbours as well as for the strangers we meet. Help us understand what it means to love others as we love ourselves. Teach us to care in a way that strengthens those who are sick. Fill us with generosity so we feed the hungry, clothe the naked and give drink to the thirsty. Let us be a healing balm to those who are weak and lonely and weary by offering our kindness to them. May we remember to listen, to smile, to offer a helping hand each time the opportunity presents itself. Give us hearts of courage that we will be brave enough to risk loving our enemy. Inspire us to go out of our way to include those in the margins. Help us to be welcoming and inclusive to all who come to our door. Let us be God's hospitality in the world.
St Martha's Parish warmly welcomes the appointment of Fr John Hayes as our Parish Priest.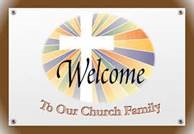 St Martha's Parish Strathfield has not had a parish priest for some years so it is with great excitement that we welcome Fr John to our faith filled community. Our Parish has a rich history and today has a very diverse cultural dimension. St Martha was a woman of great care and attention; but she was also a practical woman and her hospitality was well known as Jesus stayed with Martha, her sister Mary and Lazarus (Jn 11:5) while breaking his pilgrimages. Martha has often been challenged for her practical approach to life and neglecting her spiritual needs. Here at St Martha's our vision is to be welcoming, Eucharistic, hospitable and faithful to the Word; if we follow our patron saint and use her actions as our guide to love others, we will always be in conformity with the Gospel message. We want to encounter Jesus at a deeper level and follow our baptismal commission to spread the 'Good News". Fr John comes into a community that is a sign of the presence of Jesus Christ, is alive with the Spirit, inspired by St Martha, celebrates our rich Eucharistic tradition, is prayerful and witnesses God's love using our many gifts and talents.
Fr John comes from Emerald in Central Queensland. He completed various studies and jobs prior to entering the Seminary at 28 years of age. He was ordained to the priesthood in 1997. He trained for 6 years as a missionary in India and worked there for another 3½ years. In 2001 he returned to Brisbane and worked in the Cathedral and inner city parishes. In August 2004 Fr John came to Sydney and was Vicar-Rector of the Missionary Diocesan Seminary in Pagewood. In 2006 he was given care of the Pagewood parish and continued there as the Parish Priest.
We look forward to learning more about Fr John, his many experiences and reflections and particularly his vision for the St Martha's Parish Community as we embark on the Archdiocese's Mission Plan to "go, make disciples of all nations" (Mt 28:19). We take this opportunity to thank Fr John for his ministry and pastoral service to St Martha's so over the coming weeks let us introduce ourselves and warmly embrace him into our Parish Community in the true spirit of our Patron St Martha.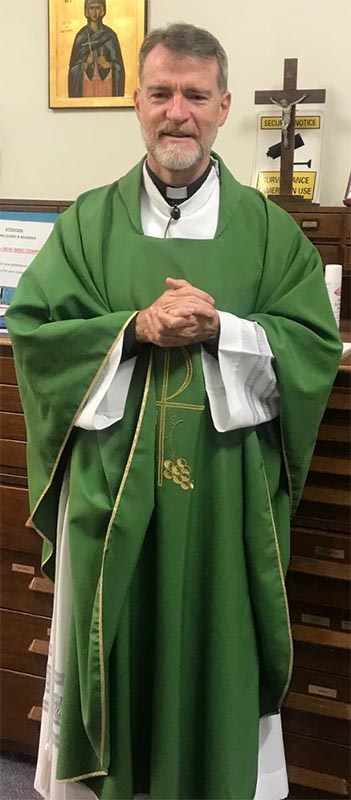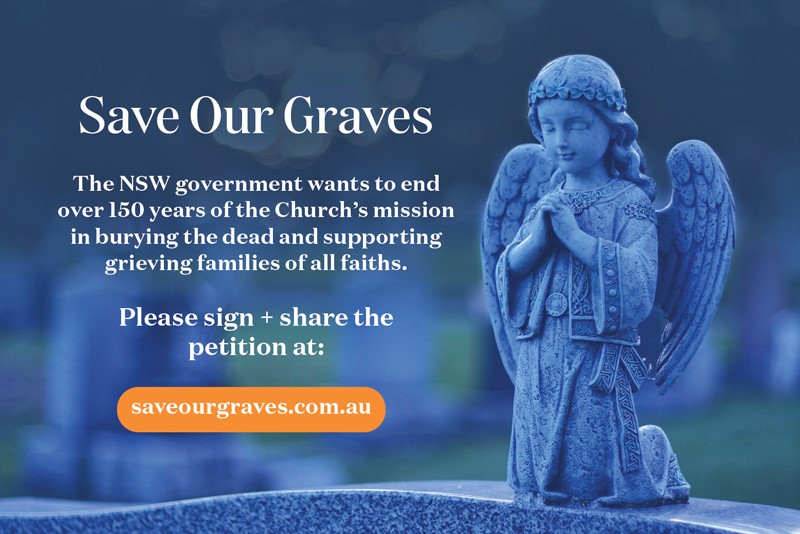 For more than 150 years in NSW, Catholic Metropolitan Cemeteries Trust has been trusted not only by Catholics, but by the Islamic and Jewish communities and other people of faith to bury the dead, maintain their graves respectfully, and comfort grieving families. The Trust wants to continue to do this, at no cost to Government or taxpayer.
But the recent decision from Minister Pavey won't allow them to.
COVID-19 UPDATE as of February 2021
Whilst we have returned to normal mass times, the maximum number of parishioners allowed in the church at any one time is now 250
- The physical distancing "2 square meter rule" applies, and

EVERYONE

attending masses is required pre-register and book their attendance by providing their contact details.

PLEASE, if you're feeling unwell in anyway or are showing any cold or flu like symtoms, please stay home.
All those entering the church must be prebooked via TryBooking and sanitise their hands with the sanitisers available.  There is no need to print any tickets from trybooking as your name will be on a list, at the door of the Church.
The mass times are as follows:
Monday No Mass
Tuesday 7.30am
Wednesday 9.10am
Thursday 9.10am
Friday 9.10am
Saturday 9.10am 5pm Vigil
Sunday 8am, 10am and 6pm.  (10am Sunday Mass is livestreamed on facebook & YouTube)


Confessions - after Saturday morning mass or by appointment.
We regret that it is not possible to open the church for private prayer.
Thank you to all those who have assisted in recording names, assisting fellow parishioners and wiping down all areas of the church, as per Government and health requirements.
May God Bless and watch over you and your families.
"Offering Faith-filled Hospitality To All"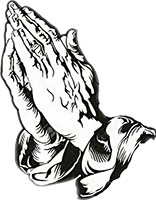 St Martha's Parish Strathfield warmly extends the hand of welcome to all.
St Martha's Church is located near the corner of Churchill Avenue and Homebush Road, Strathfield NSW, 2135.
The Presbytery and Parish Office are located just around the corner at 70 Homebush Road, Strathfield.
Prayer for Medical Staff & Healthcare Workers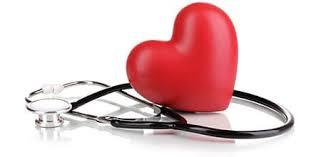 Heavenly Father, we come to you amongst a cloud of uncertainty, COVID-19 has spread amongst your people, It has scaled mountains, crossed borders, entered countries, and traversed oceans, male and female, young and old, It has entered homes, schools, governments, hospitals, sporting clubs and more. As a people united, we cry out, do not be far from us God, We lift up to you the medical professionals across our nation and around the world, May you bless their gifted hands. For GP's, doctors, surgeons, nurses and specialists, may you give them insight to treat those afflicted effectively, sustain their efforts with an enduring energy, May the spread of this virus not overwhelm them. In these uncertain times keep them safe, keep them strong and when their work is done be with them in their weariness and in their tears. May they know our deep gratitude. Bless them in these challenging days. Amen.
Spiritual Communion
For those who cannot attend Mass...
My Jesus, I believe that You are present in the Most Holy Sacrament.
I love You, above all things and I desire to receive You into my soul.
Since I cannot, at this moment, receive you sacramentally, come at least spiritually into my heart.
I embrace You as if You are already there and unite myself wholly to You.
Never permit me to be seperated from you.
~ Amen
St. Martha's Church Bells
will now ring 5 times each day



Each prayer time will be dedictated to a specific group particularly affected by the pandemic, at the following times...
9am: Prayer for those infected by COVID-19 and those who are sick.
12pm: Angelus Prayer for health professionals, clergy and those caring for the sick.
3pm:  For the unemployed, financially stressed, isolated or lonely.
6pm:  Angelus prayer for all Australians, especially political leaders and health authorities.
9pm:  Prayer for those who have died from COVID-19, and their families.
We invite everyone to join us in prayer
Pray the Angelus at 12pm and 6pm

V.  The Angel of the Lord declared unto Mary.
R.  And she conceived of the Holy Spirit.
Hail Mary, full of grace,
  The Lord is with Thee;
Blessed art thou among women,
And blessed is the fruit of thy womb, Jesus.
Holy Mary, Mother of God,
Pray for us sinners,
Now and at the hour of our death. Amen
V.  Behold the handmaid of the Lord.
R.  Be it done unto me according to thy word.
Hail Mary, etc.
V.  And the Word was made Flesh.
R.  And dwelt among us.
Hail Mary, etc.
V.  Pray for us, O holy Mother of God.
R.  That we may be made worthy of the promises of Christ.
LET US PRAY
Pour forth, we beseech Thee, O Lord, Thy grace into our hearts, that we to whom the Incarnation of Christ Thy Son was made known by the message of an angel, may by His Passion and Cross be brought to the glory of His Resurrection. Through the same Christ Our Lord.
Amen
Please consider supporting our Parish
The Parish's finances rely heavily upon contributions.  Please consider making an online donation to the Parish.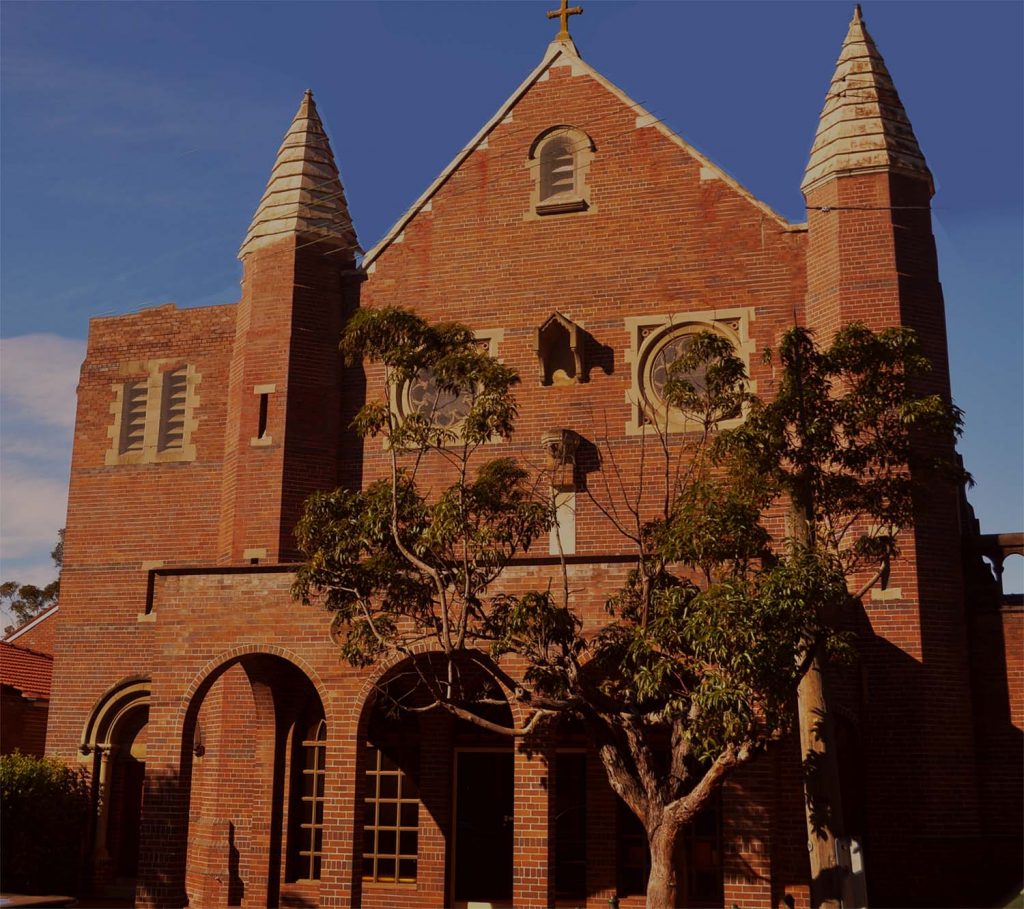 Cath Family is a website dedicated to assisting families in making the home the living heart of the church. This site aims to provide innovative and contemporary resources.
Visit the Cath Family website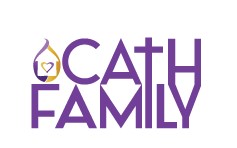 Remember...
The only thing more contagious
than a virus is...
HOPE!
~ William McGraven

With the closure of our Churches, along with many months ahead filled with so much uncertainty, St Martha's Parish Strathfield is undertaking various and alternative ways to interact with our parishioners and keep them connected to their faith. The Church is very much alive!
We will be:
Eucharistic, called by God, joyfully proclaiming the Good News
Transformed by The Word, seeking God's Will
Compassionate, seeking justice and peace
Full of grace, honouring our differences and dignity of all
Welcoming, offering our hospitality, generosity and gifts.
Alive with the Holy Spirit
Inspired by St. Martha
We celebrate and witness God's love
By using our gifts and talents in the service of our Parish
Weekend Mass Times

Saturday:

5pm (Vigil Mass)

Sunday:

8am, 10am & 6pm

Weekday Mass Times

Monday:

No Mass

Tuesday:

7:30am

Wednesday:

9:10am

Thursday:

9:10am

Friday:

9:10am

Saturday:

9:10am, followed by Reconciliation
Cnr. Homebush Rd & Churchill Ave.
Strathfield NSW 2135
---
---
70 Homebush Rd, Strathfield  2135
Monday - Friday: 9:00am - 3:00pm
---