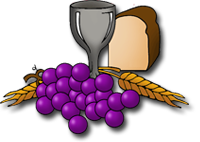 "The Eucharist is the sacramental action of giving thanks and praise to the Father." "The ultimate act of faith for a Catholic is to receive the bread and wine at Mass and know that it is truly the Body and Blood of Christ."   ~ J. Springer 2010 p50
It is the practice of the Archdiocese of Sydney that children will receive their First Holy Communion in Year 3. It is to follow the sacrament of Reconciliation. The separation of the two sacraments enables an adequate catechesis on each of the sacraments.
First Holy Communion 2021
Dear Parents, Caregivers and Candidates,
The application form for First Communion 2021 sacramental program can be downloaded by clicking the button at the top, or bottom, of this page.
ELIGIBIITY TO RECEIVE THE SACRAMENT OF FIRST HOLY COMMUNION
Your child must be in Year 3 or above in 2021 to receive First Communion.
Have received the Sacrament of Baptism and First Reconciliation.
ENROLMENTS CONCLUDE MONDAY 2nd AUGUST 2021.
Your child's enrolment is guaranteed when the parish office has received your completed form, payment and copy of Baptism and First Reconciliation certificate.
2021 Schedule of Dates
Information Session (Compulsory for one parent): Monday 9th August 2021 @ 6.30pm (In the Church)
This meeting is important to attend as our lesson outline will be explained and your sacrament date and time options will be available.
Lesson 1 -  3:30pm Saturday 14th August
Lesson 2 – 3.30pm Saturday 21st August
Lesson 3 – 3.30pm Saturday 28th August
Lesson 4 – 3.30pm Saturday 4th September
All lessons will take place in the Parish Hall/Church
Retreat & Practice  - To be announced at our Information night 9th August.
Sacrament Date:
12 noon Mass Sunday 12th September 2021
(Subject to COVID Restrictions & Number of candidates)
The Enrolment Fee for First Holy Communion 2021 is $50.
(This Fee covers the cost of workbooks and associated printing of resources, pins, necklaces, certificates and photographer.)
---
For more information please contact the Sacramental Team on 9746 6131
– or –
via e-mail on sc@stmarthas.org.au