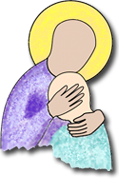 "The sacrament of Reconciliation was previously called the sacrament of penance and words such as confession and confessional were commonly used. Confession names only one part of the sacrament, while reconciliation names what is most important about the sacrament: the forgiveness of our sins by God." ~ J. Springer 2010 p5
It is the practice in the Archdiocese of Sydney that children receive the sacrament of reconciliation in year 2. It is the practice of the Church that children be prepared for this sacrament before receiving their First Holy Communion.
Reconciliation 2021 (Term 4)
Dear Parents, Caregivers and Candidates,
The application form for our Confirmation 2021 sacramental program can be downloaded by clicking the button on this page of our website.
ELIGIBIITY TO RECEIVE THE SACRAMENT OF RECONCILIATION
Your child must be in Year 2 or above in 2021 to make Reconciliation

Have received the Sacrament of Baptism.
Unfortunately, for our First Reconciliation candidates scheduled for their preparation and sacrament in term 4, 2021,
we have deferred your sacrament preparation until First term 2022, due to COVID.
The Enrolment Fee for First Reconciliation 2021 is $50.
(This Fee covers the cost of workbooks and associated printing of resources, pins, necklaces & certificates)
---
For more information please contact our Sacramental Team on 9746 6131
– or –
via e-mail on sc@stmarthas.org.au