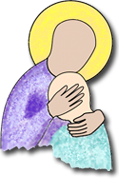 "The sacrament of Reconciliation was previously called the sacrament of penance and words such as confession and confessional were commonly used. Confession names only one part of the sacrament, while reconciliation names what is most important about the sacrament: the forgiveness of our sins by God." ~ J. Springer 2010 p5
It is the practice in the Archdiocese of Sydney that children receive the sacrament of reconciliation in year 2. It is the practice of the Church that children be prepared for this sacrament before receiving their First Holy Communion.
First Reconciliation 2023
Welcome Parents, Carers and candidates!
Jesus shows us how to LIVE!
Find out how we can make a choice for good and not for evil as we follow a 6-week interactive preparation program involving candidates and parents/carer. Lead by our Parish Priest, Fr. John, we join together with Jesus in this sacrament… to receive his grace and mercy in forgiveness… not only for the first time, but again and again!
To participate, prepare and receive this sacrament please download, complete and return an enrolment form, from below. Hardcopies can be found in the foyer of our Church.
ELIGIBIITY TO RECEIVE THE SACRAMENT OF FIRST RECONCILIATION
Your child must be in Year 2 or above in 2023 to receive First Reconciliation.
Have received the Sacrament of Baptism. (Arrangements can be made if your child has not been Baptised)
The Enrolment Fee for First Reconciliation 2023 is $50.
(This Fee covers the cost of workbooks, resources.)
FIRST RECONCILIATION 2023
 – For Children in Year 2 or Older and
who have received the Sacrament of Baptism.
1st lesson:   3:45pm Wed 18th - or - 3:30pm Sat 21st October
2nd lesson:   3:45pm Wed 25th - or - 3:30pm Sat 28th October
3rd lesson:   3:45pm Wed 1st - or - 3:30pm Sat 4th November
4th lesson + rehearsal:   3:45pm Wed 8th - or - 3:30pm Sat 11th Nov
Sacrament date:
6pm:

Tuesday 14th

  - or - 

Wednesday 15th November 2023



---
For more information please contact our Sacramental Team on 9746 6131
– or –
via e-mail on sc@stmarthas.org.au